How to be a guest?
Hello! If you've been sent this page, you've been invited to be a guest on our podcast and we're incredibly excited to have you!
In order for the actual conversation and recording to go smoothly, we've collected a bunch of information that will make it easier for all of us. The topics we're covering are structure, preparations, and recording setup.
Structure
Our podcasts last about an hour. We record usually on <still to be decided, but definitely not at 11pm UK time>. The people involved are Fabian Becker and Gabor Javorszky, and you, our guest(s).
First, one of us will give a short intro and welcome us to the podcast: there's going to be a round of greetings.
After that we dive into the meat of the podcast, ask you who you are, what you do, and proceed to have a conversation with you about your area of expertise. You will have received a set of questions at this point.
Preparations
A few days before the recording we'll send you a set of questions that we aim to cover during the podcast so you have time to prepare, and none of them catch you off guard. At this time you also have the possibility to suggest additional questions that we might have missed, or to ask us to stay clear of certain topics, should there be any.
We use Skype or Google Hangouts to be in a call when recording. More technical info about that setup is in the next section.
Recording setup
When we're in a call, we each record our own voices, and then Fabian combines them into one stream in post production. There's a bit of noise reduction involved, and unnecessary "umm"s and "ah"s are removed (mostly from the background only).
At the beginning after we're in the call, Gabor will do a countdown. 3 - 2 - 1 - record. We all start recording when Gabor says "record".
We use Audacity to capture the microphone's input. You can use your flavour of sound recorder as long as it's capable of recording in 44kHz, mono and export the file as a 16bit PCM .wav (lossless) file.
Here's the window of Audacity, and important bits: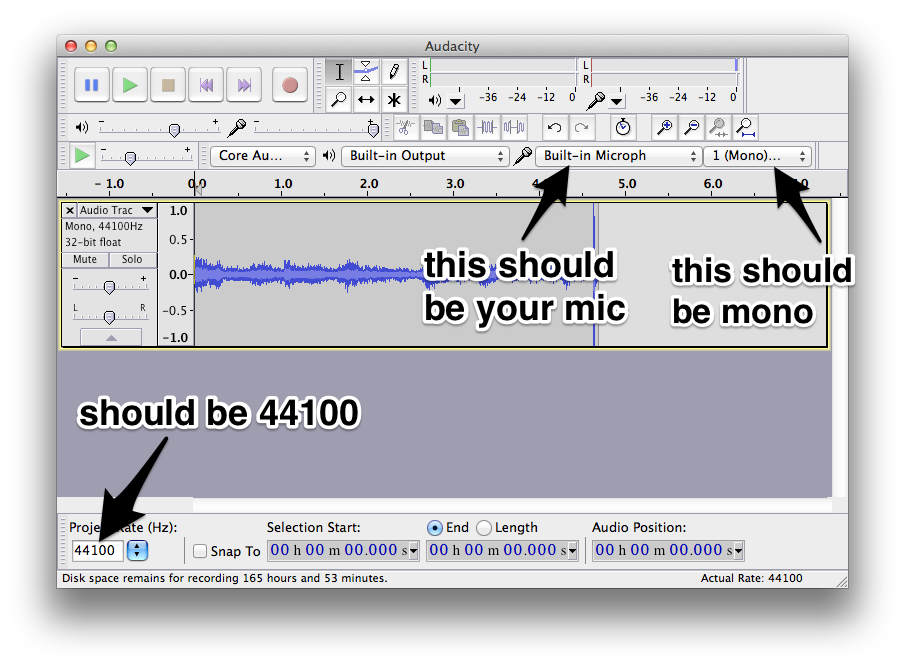 When exporting, you can follow this animation: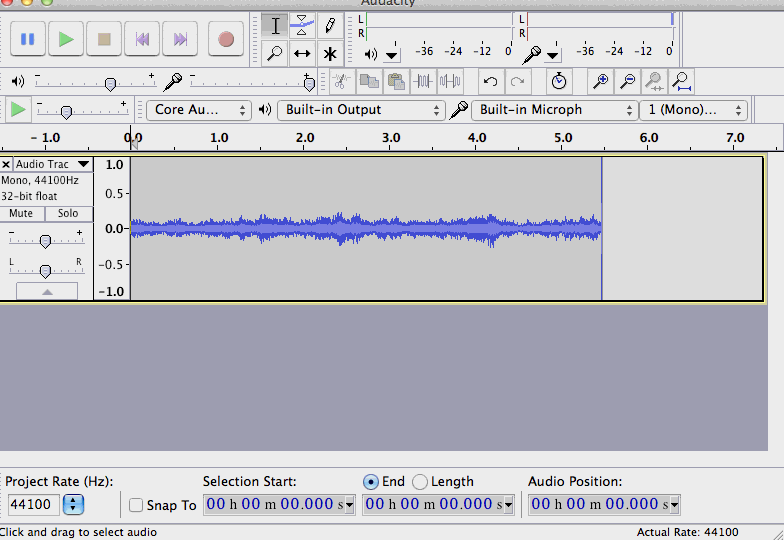 After you have the file (it should be between 400-500MB), you'll need to get it to us. The easiest method is to upload it to Dropbox / server, and send the link to the file to gabor@javorszky.co.uk.
Epilogue
If you have any questions, hit us up on @ghostalk_, and we'll be happy to help.